Roll over image to zoom in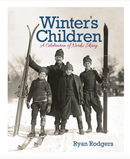 Description
by Ryan Rodgers 
The story of Nordic skiing in the Midwest—its origins and history, its star athletes and races, and its place in the region's social fabric and the nation's winter recreation

Winter's Children traces Nordic skiing in the Midwest from its introduction in the late 1800s to its uncertain future in today's changing climate. Generously illustrated, this is an engaging look at the earliest ski teams and touring clubs; the evolution of cross-country skis, gear, and fashion; and the ambitious effort to maintain a vast trail network across Minnesota's state park system.
Ryan Rodgers is a freelance writer and avid skier whose work has been published in Backpacker, The Sun, Minnesota Conservation Volunteer, Hamline, and Northern Wilds magazines. The former board president of the Standing Cedars Community Land Conservancy, a 1,500-acre nonprofit land trust along the St. Croix River, he lives with his family in northern Minnesota.
Payment & Security
Your payment information is processed securely. We do not store credit card details nor have access to your credit card information.