Roll over image to zoom in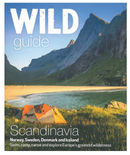 Description
Imagine a summer spent wild camping under the midnight sun exploring secret islands and swimming in thermal pools and crystal lakes, all whilst enjoying artisan slow food fresh from the seas rivers and forests.
In this inspiring selection you will discover the very best wild places to visit in Norway, Sweden, Denmark and Iceland with delicious local food and magical places to stay.  Featuring stunning photography and engaging travel writing, this is the perfect book for families seeing new adventures off the beaten track, or explorers dealing up their ultimate wild holiday. 
Ben Love studied Scandinavian languages at university in London and Stockholm spending his summers working as a river and canoe guide in Iceland and Sweden. He is a photographer, translator and writer specialising in Scandinavia and the outdoors. Currently researching the Swedish right to roam, he is passionate about having wild adventures with his family and embracing the concept of friluftsliv - roughly translating as 'open air life', it is the Scandinavian philosophy of having a true connectedness with the outdoor environment.
Paperback with French Flaps.   256 pages.
8 in H | 7 in W
Payment & Security
Your payment information is processed securely. We do not store credit card details nor have access to your credit card information.