Roll over image to zoom in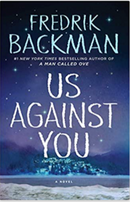 Description
by Fredrik Backman
The residents of Beartown are tough, hardworking people who don't expect life to be easy or fair. They've always been able to take pride in their local ice hockey team, especially when they are victorious over their longtime rivals in the neighboring town. But just when it seems that Beartown Ice Hockey might be disbanded due to the defection of their best players, the team gets a surprising new coach-and a chance at a comeback. Bringing the team together, however, proves to be a challenge as old bonds are broken, new ones are formed, and the bitterness between the adversaries threatens to turn into violence.  
With immense compassion and insight, Fredrik Backman reveals how loyalty, friendship, and kindness can carry a town through its most challenging days. 
Payment & Security
Your payment information is processed securely. We do not store credit card details nor have access to your credit card information.