Roll over image to zoom in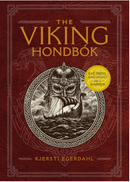 Description
By Kjersti Egerdahl 
Eat, dress, and fight like a warrior......
Who were the Vikings?
Win at life -the Viking way- with this fascinating guide on living like a Norseman. Known for being skilled craftspeople, hardworking farmers, and masters of the sea, the Vikings were a complex people and captivating people. Packed with revealing historical anecdotes and unexpected insights from over 300 years of Viking history, you'll discover how to weave the perfect beard braid, how warships and weapons were made, and even how to take a Viking-style getaway. 
whether you're looking to learn more about your family tree, hoping to increase your Nordic knowledge, or level up your larping, The Viking Hondbók is a treasure trove of Viking Age legend, lore, and wisdom. 
KJERSTI EGERDAHL has edited music and pop culture books on everything from Darth Vader to Jimi Hendrix to Buffy the Vampire Slayer. She is also the author of Green Day: A Musical Biography , a career retrospective on the world's biggest punk band. 
Payment & Security
Your payment information is processed securely. We do not store credit card details nor have access to your credit card information.