Roll over image to zoom in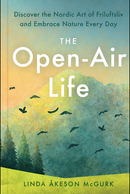 Description
by Linda Åkeson McGurk
In The Open-Air Life, Swedish-American writer Linda McGurk introduces readers to a wide array of Nordic customs and practices that focus on slowing down and spending more and more of ones' time outdoors. An outdoorsy cousin of hygge, friluftsliv is what Nordic people do outside all day before they cozy up in front of the fireplace with their wool socks on and a cup of hot cocoa.
Hardcover, 244 pages.
Payment & Security
Your payment information is processed securely. We do not store credit card details nor have access to your credit card information.