Roll over image to zoom in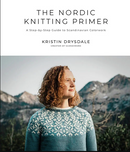 Description
by Kristin Drysdale
This book busts the myth that colorwork knitting is hard by teaching knitters to create spectacular Scandinavian designs with easy-to-follow techniques and confidence-building tips.
Kristin Drysdale, founder of Scandiwork, shares her innovative and approachable method for mastering colorwork knitting. With a family heritage in Denmark and Norway, Kristin is an expert in traditional Scandinavian knitting and has been teaching colorwork to beginners for years. Kristin's clear techniques make it easy for knitters of all levels to create the colorful designs of their dreams. Her unique, friendly instructions talk readers through each step, so achieving impressive results is fun and foolproof.  
192 pages. Paperback.
9 in H | 7.8 in W
Payment & Security
Your payment information is processed securely. We do not store credit card details nor have access to your credit card information.