Roll over image to zoom in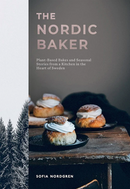 Description
by Sofia Nordgren
In The Nordic Baker, Sofia Nordgren guides you through a year of plant-based Nordic cakes, buns, breads, cookies and crackers and invites readers to keep things simple, go back to basics and cook with nature in mind.
224 pages. Hardcover.
9.8 in H | 7.4 in W
Payment & Security
Your payment information is processed securely. We do not store credit card details nor have access to your credit card information.