Roll over image to zoom in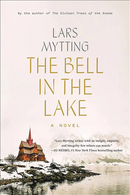 Description
by Lars Mytting
As long as people could remember, the stave church's bells had rung over the isolated village of Butangen, Norway. Cast in memory of conjoined twins, the bells are said to ring on their own in times of danger. In 1879, young pastor Kai Schweigaard moves to the village, where young Astrid Hekne yearns for a modern life. She sees a way out on the arm of the new pastor, who needs a tie to the community to cull favor for his plan for the old stave church, with its pagan deity effigies and supernatural bells. When the pastor makes a deal that brings an outsider, a sophisticated German architect, into their world, the village and Astrid are caught between past and future, as dark forces come into play.
416 pages. Paperback.
Payment & Security
Your payment information is processed securely. We do not store credit card details nor have access to your credit card information.