Roll over image to zoom in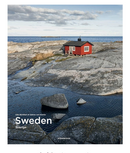 Description
by Sabine von Kienlin 
This is a flex-cover paperback edition of the spectacular hardcover coffee-table book showing the fascinating diversity and beauty of Sweden. Sweden, a symbol of Scandinavian idyll, inspires with its falun-red wooden houses surrounded by dense forests, with its quiet bays, long sandy beaches, lighthouses and windmills, colorful boathouses, the glittering sea between archipelagos, the infinite number of lakes, the lonely and wide snow landscapes, dog sleds, reindeer and moose.
Udo Bernhart has been working as a freelance photographer and photo journalist for more than 35 years and has published countless reports in national and international magazines. Growing up in the Vinschgau and closely connected to the South Tyrolean landscape, his commissions have taken him all over the world. Traveling and discovering the world belong to Sabine von Kielin's passions alongside art and media. She financed her studies as a flight attendant and traveled almost the whole of America and the most diverse places on earth.
Paperback. 
456 pages
8.2 in H | 6.7 in W | 1 in T | 1.8 lb Wt
Payment & Security
Your payment information is processed securely. We do not store credit card details nor have access to your credit card information.