Roll over image to zoom in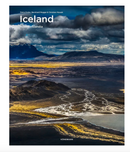 Description
by Petra Ender, Bernhard Mogge, Christian Nowa 
Iceland's spectacular landscape is characterized by volcanism and abundance of water. Volcanoes, geysers, thermal springs, and lava fields are typical for the Nordic island state. This illustrated book shows over 350 images of glaciers, rugged peaks, weathered coastline, and Icelandic fjords. This is a paperback version of the spectacular hardcover coffee-table book.  
Petra Ender is a trained translator who turned her passion into her profession twenty years ago. Today she lives and works in Munich as a photographer and freelance picture editor for various publishing houses. Bernhard Mogge worked for many years as a journalist for radio and newspapers. Today he is an author, proofreader, and editor for various agencies, publishing houses, and magazines and favors travel topics. His focus is on North America, Scandinavia, Italy, Israel, and the South Seas. Christian Nowak traveled through India, Nepal, and South America with his backpack while a student of biology. The Berliner turned his passion into his profession and today works as a freelance photographer and travel journalist and has written more than forty travel guides.
Flexi-cover paperback.  504 pages
8.2 in H | 6.7 in W | 1.1 in T | 2.2 lb Wt
Payment & Security
Your payment information is processed securely. We do not store credit card details nor have access to your credit card information.