Roll over image to zoom in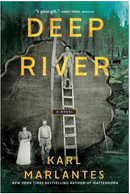 Description
by Karl Marlantes 
'Deep River is an engrossing and commanding historical epic about one immigrant family's shifting fortunes....a feat of lavish storytelling."- Mark Athitakis, Washington Post 
In the early 1900's, as Russia's oppressive rule takes its toll on Finland, a courageous young girl, Aino Koski, is forced to flee from the Russian secret police to the United States. She joins her brothers, Matti and Ilmari, in a Finnish logging community near the majestic Columbia River. There, the colossal old-growth forests are being cut down, making fortunes for a few on the backs of the loggers who face constant danger and continue to live in poverty. 
While her brothers strive to build businesses and realize the American dream Aino devotes herself to union organizing, struggling to support herself as a midwife. As she grows into womanhood, Aino strives to balance her political activism with her yearning for a family of her own. She finds herself pulled between two very different men, both of whom harbor secrets as painful as her own. 
This stunningly expansive love story breaths deeply of the primeval forest and bears witness to the stump-ridden fields left behind. It is also an ambitious and timely exploration of America's continuing battle to reconcile the competing values of the individual and collective, and of our constant struggle to integrate each new wave of immigrants into an America still defining its own identity. 
Payment & Security
Your payment information is processed securely. We do not store credit card details nor have access to your credit card information.