Roll over image to zoom in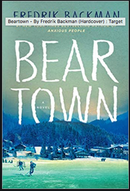 Description
"It's only a game. It only resolves tiny, insignificant things. Such as who gets validation. Who gets listened to. It allocates power and draws boundaries and turns some people into stars and other into spectators. That's all."
A tiny community deep in the forest, Beartown hasn't been the best at anything in a long time. But down by the lake stands an old ice rink. And, in that ice rink, Kevin, Amat, Benji, and the rest of the town's junior ice hockey team are about to compete in the national semifinals-and they actually have a shot at winning. All the hopes and dreams of this place now rest on the shoulders of a handful of teenage boys. 
Under that heavy burden, the semifinal match becomes the catalyst for a violent act that will leave a young girl traumatized and a town in turmoil. 
This is a story about a town and a game, but even more about loyalty, commitment, and the responsibilities of friendship; the people we disappoint even though we love them; and the decisions we make every day that come  to define us. In the is story of a small forest town, Fredrik Backman has found the entire world. 
Payment & Security
Your payment information is processed securely. We do not store credit card details nor have access to your credit card information.