Roll over image to zoom in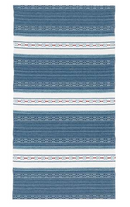 Description
Material: 
Warp: Polyester 
Made in Horred Sweden 
Produced by Horredsmatten established in 1956
All HRD Carpets that are woven in Vinyl foil can be used both indoors and outdoors. Slight discoloration may occur when used outdoors in direct sunlight for long periods. All of these materials are REACH certified, meaning the rugs don't contain hazardous substances. The plastic material comes from the neighboring company Gislaved Folie, which is extremely environmentally aware. They were environmentally certified in 1997 under the ISO 14001 act and has signed the world's first environmental program for PVC products. 
To remove stains, use a damp cloth with a mild detergent. Hand/Machine wash at 30C or 86F. Do not put in dryer. 
Payment & Security
Your payment information is processed securely. We do not store credit card details nor have access to your credit card information.