Roll over image to zoom in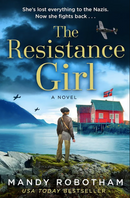 Description
by Mandy Robotham
Norway, 1942: She has lost everything to the Nazis. But now she fights back…
War rages, and, under cover of darkness, Rumi Orlstad and her fellow resistance fighters smuggle British agents, fugitives and supplies across the North Sea into Nazi-occupied territory.
One night, when he braves a storm to complete an ill-fated mission, Rumi's fiancé is lost to the dangerous waters. Broken-hearted, she withdraws from the clandestine group, vowing never to let her loved ones put themselves in the line of fire again.
But months later, Rumi stumbles across a Nazi secret that lays Hitler's plans for Norway bare, and she knows she has no choice but to risk her life for her country once more…
432 pages. Paperback.
Payment & Security
Your payment information is processed securely. We do not store credit card details nor have access to your credit card information.