Roll over image to zoom in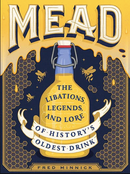 Description
by Fred Minnick
Mead gives readers a fascinating introduction to the rich story of this beloved beverage — from its humble beginnings to its newfound popularity, along with its vital importance in seven historic kingdoms: Greece, Rome, the Vikings, Poland, Ethiopia, England, and Russia. Pairing a quirky, historical narrative with real practical advice, beverage expert Fred Minnick guides readers through making 25 different types of mead, as well as more than 50 cocktails, with recipes from some of the country's most sought-after mixologists.
272 pages.  Hardcover.
Payment & Security
Your payment information is processed securely. We do not store credit card details nor have access to your credit card information.