Roll over image to zoom in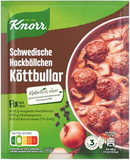 Description
Swedish Köttbullar is a dish of meatballs and mushrooms served in a creamy sauce. 
To make sauce:
1 1/2 cups cold water 
1/2 cup whipping cream or 1/2&1/2 
Stir in contents and bring to a boil while stirring
Cook on low heat for 5 minutes stirring occasionally 
In the mean time brown meatballs in hot pan with oil and then add mushrooms to be sautéd. Combine sauce with cooked meatballs and mushrooms in pan. Serve warm. Best served with boiled or mashed potatoes and a side of lingonberries. 
49g
Payment & Security
Your payment information is processed securely. We do not store credit card details nor have access to your credit card information.