Roll over image to zoom in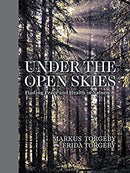 Description
by Markus & Frida Torgeby 
Twenty years ago, Markus Torgeby traded his hectic urban life for the serenity of a small hut in the forests of jämtland in Sweden. He ended up living there for four years, in solitude and perfect harmony with nature. 
Today, he and his wife, Frida, along with their three children, live in a house Markus built with his own hands, near the site where he once survived on nothing but oatmeal, brook water, and the forest's pantry. For Markus, living in the forest provided something concrete-- cool air on his face, a cotton canvas of clouds overhead, wet clothes drying over the fire, and the responsibility only for shelter, heat, and food. Rooted on the ground under a bed of leaves, with his head finally aligned with his body, Markus found his way out. And you can too. 
Under the Open Skies: Finding Peace and Health in Nature reveal Markus's profoundly rich and satisfying forest lifestyle and how it has helped him find simplicity, contentedness, and true balance. 
Payment & Security
Your payment information is processed securely. We do not store credit card details nor have access to your credit card information.