Roll over image to zoom in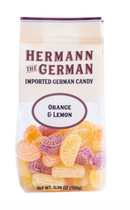 Description
Product of Germany
O & Z Schnittzen
5.29 oz
Hermann the German hard candies - delicious flavor and quality ingredients.
Ingredients: Sugar, glucose syrup, citric acid, natural flavors (orange oil, lemon oil), natural coloring: concentrates form carrot, red beet juice, apple, pumpkin.
Payment & Security
Your payment information is processed securely. We do not store credit card details nor have access to your credit card information.